Transport and logistics for the pharmaceutical industry
The universe of transportation and logistics is constantly changing and Torrestir it's permanently adopting innovation to be part of that change.
Torrespharma makes part of the equation and highlights the importance of pharma sector to increase life quality to the population.
Torrespharma provides a specialized service for transportation and distribution of pharmaceutical products, complying with industry requirements, guaranteeing maximum confidence and professionalism.
We ensure the delivery of products at destination in good conditions in terms of packaging and refrigeration, ensuring availability of the medicines requested by the establishments and relieving producers and sales stores of ample storage spaces.
Hospitals, health centers, medical clinics and stockists
Availability of medicines in Hospitals, Health Centers, Medical Clinics and Warehouses in requested times up to 10 o'clock.

Pharmacies
We guarantee the availability of medicines in Pharmacies in a requested time by the customer with highlight up to 1pm.

B2C Delivery
We offer a B2C delivery service to home patients at times that meet their needs.

Just in Time (JIT) Deliveries
We offer dedicated services for delivery throughout the country with controlled temperature: 2ºC – 8ºC and 15ºC – 25ºC.
We are specialists in the health sector
A prime example of the importance in the appliance of logistics systems is the pharmaceutical industry, where stock management and efficiency of the goods flow are determinants to success.
With Torrespharma, Torrestir is able to ensure delivery of products at the place of destination in good conditions of packaging and refrigeration, to ensure availability of the medicines requested by establishments and relieving producers and sale stores of ample storage spaces.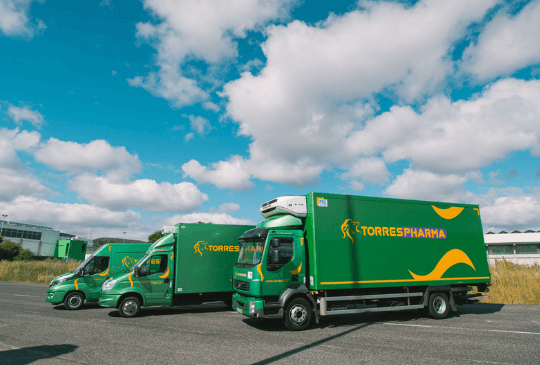 Medicines in the right timing
With this service, we guarantee total availability of medicines in requested timings, with priorities on the following delivery times: Hospitals, health centers, medical clinics and stockers until 10am and Pharmacies until 1pm.
Um serviço especializado
Na Torrespharma possuímos a tecnologia de controlo e comunicação avançada ao serviço da indústria farmacêutica, com recursos humanos especializados para o cumprimento das boas práticas na distribuição de medicamentos e também viaturas com temperatura controlada entre 2º a 8º e 15º a 25º.
O parceiro certo na área da saúde
A Torrespharma consegue assegurar a entrega dos produtos no local de destino em boas condições de embalamento e refrigeração e garantir a disponibilidade dos medicamentos solicitados pelos estabelecimentos, aliviando produtores e espaços de venda do armazenamento.