Warehousing and parcel management
Torrestir Logística was founded in 2001, providing more than 30,000 m2 of storage space and stock capacity of more than 37,000 pallets, with platforms throughout the country.
We provide integrated supply chain management services that add value to businesses, offering solutions designed according to the specifics of each customer. Commitment to continuous training of teams and the constant contact with customers allows us to reach levels of excellence.

INTEGRATED LOGISTICS
Track your supply chain from factory output to the final destination delivery.
We design and implement customized operations, where we offer a complete range of base and added-value services, fully supported in physical and computer processes that you can keep up in our online platform.
Reception, confer and storage, including logistic data management;
Inventory Management and Stocks by FIFO, FEFO, Lots and Serial Numbers, guaranteeing total traceability of products;
Permanent optimization of storage and shipping layout, ensuring a high level of efficiency;
Multi-channel order dispatch in pallet, carton box, pack or unit, using automation or supported in traditional processes, according to a specific analysis of the merchandise typology and profile of orders of each customer;
Crossdocking operations with order preparation appropriate to each recipient specific tasks, including the production of GS1-128 labels;
Reverse logistics and returns with the possibility of managing the destruction of unqualifieds;
Promotional and regulatory copacking operations, including the supply of consumables, production of labels and equipment;
Repacking operations and multiple transformations of storage and shipment;
Strong and flexible computer system;
ONSITE operations, from client's "home" with the possibility of implementing all the base and added-value services, also available in our warehouses.


OPERATION MANAGEMENT AND ON-LINE SALES SUPPORT
We follow the market needs and we're always close to our customers, developing logistic operations to support online sales. With the guarantee of total segregation of delivery channels, virtual warehouse management and efficient systems of units preparation, Torrestir Logística as self positioned as a reference partner in this market.

EXPORT OPERATIONS
Being the main objective staying close to customers and offer a service of excellence, with an innovative and creative DNA, Torrestir Logística has a customs area, being already responsible for the distribution of several products to diverse points in the world with a massive network of accredited partners.

MK AND TRADE MK OPERATIONS
We are the perfect partner that your logistics needs for logistics operations of Marketing and Trade Marketing material. At Torrestir Logística we offer integrated warehouse management services to the most complete distribution network in Portugal, with necessary urgency and flexibility to guarantee required timings by the Brands and Companies.

100% GEOREFERENCED WAREHOUSE
In a warehouse management environment 100% georeferenced, Torrestir Logística has tools in its WMS (Warehouse Management System) to optimize localization among the several different types of parcels and corresponding storage solutions. Through our online platform, customers can access all information in "near real time".
The right partner in stock management and warehousing solutions
If you are looking for a partner to support storage and stock management of your products, Torrestir offers all the logistical support for your company.
Through Lean Logistics System, we reduce waste throughout the stages and optimize stock management through 3 fundamental actions: lot size reduction; the increase of frequency and the leveling of delivery flow. Comprehensive inventory management with full product traceability.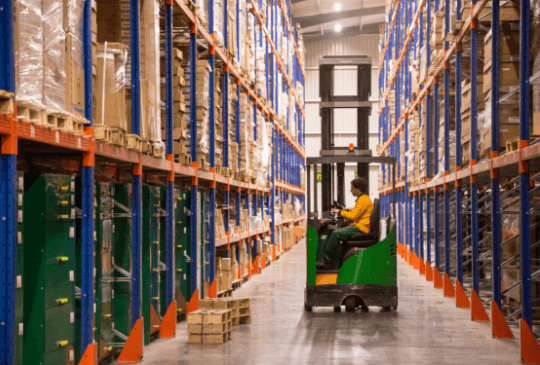 Over 30,000 square meters of space
We offer more than 30,000 m2 of storage space and capacity for more than 37,000 pallets, with platforms scattered throughout the country.
Stock management optimization
We reduce waste along stages and optimize stock management through 3 fundamental actions: lot size reduction; increase of frequency and the leveling of the delivery flow.
Custom solutions
We offer solutions specially designed according to each customer needs and provide added value services, through a specialized team and permanent contact with customers.